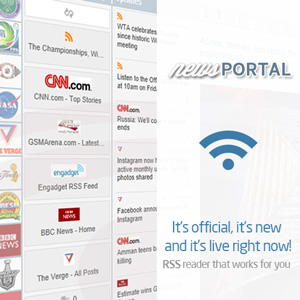 When we started mapping out our RSS platform, we had no idea that Google will make a decision to retire their rather popular Google Reader. Some of our team members were avid Google Reader users, so we met Google's decision with mixed feelings. One thing we won't deny: we worked very hard knowing that our product would find its users regardless of whether we're going to succeed with the Google crowd or not. So, if you're looking for a copy of the Reader, our News Portal is not one. If you're looking for an alternative to Google Reader that is a robust product by itself as well as an integral part of PortalPanel bookmarking app—this is it!
PortalPanel's RSS platform, called News Portal, allows each user to create their own news stream, including the ability to customize the way they receive and consume the news. Users can enter their favorite RSS feeds or choose from a list of trending feeds recommended by the PortalPanel team.
The News Portal is designed to attract internet users familiar with RSS feeds and looking for a new platform, as well as those who have never consumed web content in this fashion before. We're not convinced of the imminent death of the RSS feed. Although we completely understand why it made little sense for Google to continue with the platform, at the same time we are well aware that what may be a small niche for Google is a perfect niche for PortalPanel.  
As always, we paid a lot of attention to design while building our News Portal. One of the reasons why we believe many potential RSS users never discover the power of the feed is due to the poor design of RSS readers and lack of innovation in terms of news delivery. We surely didn't invent the RSS, but we tried hard to re-invent it, at least a little…
News Portal focuses on ease of use, content, and shareability. Each user is allowed to enter and their own feeds or choose from feeds featured in the Trending section. The feeds are hand-picked by the our team and will change based on trending sporting events, political affairs, and noteworthy cultural happenings. This is something different that we feel very strongly about and hope our users will find this exciting as well.
Once a feed is saved, it will appear in the Your Feeds column. Clicking on a feed will conveniently display the latest headlines in the Updates column. This way, users can browse the headlines without having to open each story individually. A Mix Feeds button allows users to see a mix of time-stamped updates from all feeds instead of just any one particular feed.
Clicking on a headline will open up the first paragraph of the story. At this point, it's up to the user to decide whether they want to continue browsing or go directly to the story.
Any story can be saved for later reading or bookmarked using the PortalPanel's bookmarking app or shared on one of many supported social networks like Facebook, Google+ and LinkedIn. The RSS reader not only adds value to already feature-rich PortalPanel, but also fits nicely into its dashboard as an additional widget. Users can keep an eye on their news feed while organizing their bookmarks, updating social networks or searching for new content.
The homepage widget features latest headlines each followed by a timestamp; it also has an auto update function, so users don't need to refresh their newsfeed manually.
You can find the official press release about our RSS platform here. Try it. Share it. Love it
comments powered by

Disqus