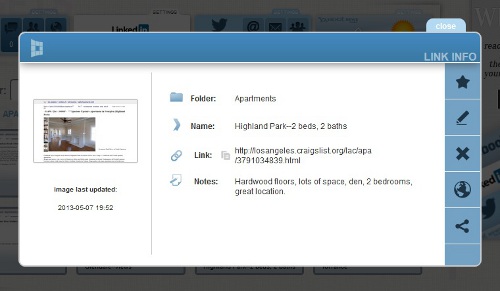 We built PortalPanel around one simple concept: it's a web-based online bookmarking app that happens to have enough features to be anyone's home page. It's an app capable of holding all the web content that you consume on daily basis and yet never looking crowded; one page to rule them all, so to speak.
It doesn't shoot fireworks; it won't vacuum your floor. One could think that web bookmarking is a rather limited field. However, as PortalPanel grows in terms of the number of users and constant updates, we are amazed to see the ways our users and even our team members utilize the app. Sometimes we feel like overjoyed parents watching their offspring do something really cool and unexpected.
I invite each of you reading this to share your own story as to how you utilize PortalPanel. In order to jumpstart the conversation I'm going to tell about my own little discovery.
My wife and I are moving from Chicago to Los Angeles this summer. Naturally, the most important step for us was finding our new home. So we went to LA and did what any person looking to rent an apartment in the major U.S. city would do: started combing Craigslist.
Initially, we shared our findings via email messages or copied links into a word file so both of us could review the listings. Then we started calling landlords and property management companies, crossing off all the jerks, weirdoes, liars and other folks who gave us a vibe they were going to waste our time.
[quote 300 left]I honestly cannot think of a better way to search for a new apartment/house or comparison-shop for anything. [/quote] Unfortunately, our little system wasn't working very well. We soon got lost in tens of emails that all contained the same looking Craigslist links. The word document somehow magically multiplied into three or four different versions. Days went by and our search wasn't going anywhere.
And then it dawned on me… wait a minute, what was I thinking? I should use PortalPanel!
So we created a folder aptly called Apartments and started saving all the listings there. Since PortalPanel allows giving a name to each saved item, as well as entering a detailed description, we were able to accumulate a considerable amount of potential places each with its own distinctive name and description. And, of course, since each bookmarked item had a thumbnail photo, this turned out to be the best organized list ever compiled by an apartment hunter on this planet (this may be a slight exaggeration, but we felt pretty confident about this at the moment).
All in all, our house hunting process went a lot smoother from the moment we started bookmarking Craigslist's links on PortalPanel. The app enabled us to compare properties side-by-side, quickly check if the apartment was still on the market by opening the link in a browser, delete apartments that turned out to be unavailable or the ones we didn't like, and add more comments to the remaining favorites.
Just a side note: searching for an apartment in Los Angeles is tough. Yes, there are plenty of properties  to choose from, but the good ones go fast, the city is huge and at the end of the day you are destined to feel exhausted and in need of a glass of wine and good night sleep.
Fortunately, we did find a place that we'll be calling home for at least a year or two. Organizing listings with PortalPanel made the apartment hunting a lot easier. I can't believe I didn't think of this from the day one.
This experience made me think about other similar uses of PortalPane. First of all, house buyers. Since most buyers start their search online, PortalPanel is ideal for bookmarking, organizing and sharing favorites with your spouse, parents or friends.
This got me thinking… why not any buyers? Looking to buy a new couch on Craigslist (Overstook, eBay…)? Bookmark, add your comments and compare potential purchases side-by-side on PortalPanel. In case you're shopping on eBay, our smart link recognition system automatically fetches the item's photo, opening bid price and tells you when the auction is over.
I honestly cannot think of a better way to search for a new apartment/house or comparison-shop for anything, especially if you're looking for items on different website. Sure most of the ecommerce platforms have their own wish lists and bookmarking capabilities, but what if you're looking for the dream snowboard or a pair of shoes on different websites?
Talk about one page to rule them all, my friends!


comments powered by

Disqus